Q. How to replace a leather or rubber watchband?

To Replace Your Watchband

Using a special Spring Bar Tool, gently depress end of the old strap spring bar and remove it from the retaining hole where strap is connected to the case, as shown in the illustration.


If they are not already positioned there, insert the new spring bars into your new strap.


Insert one end of the spring bar into a retaining hole in the watch case and while depressing it, position the opposite end of the spring bar into the other retaining hole.


Take care to avoid scratching watch case and strap.


---
Q. How to adjust a rubber band with deployant clasp?

Adjustment of a rubber band with deployant clasp.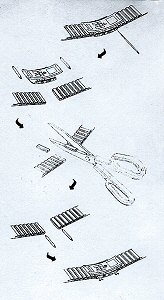 Remove the buckle by releasing the spring bars with Spring Bar Tool or a sharp object.


Remove both spring bars from the pin holes.


Shorten the bracelet by cutting along the grooves on the inner surface of the bracelet. You can do this for instance with scissors. If you are unsure of the correct length, cut the pieces one by one and test the length after cutting each piece. Cut in turns from both sides of the bracelet to keep the sides equally long. Be careful in order not to shorten the bracelet too much.


Replace the spring bars into the last pin holes of both sides of the bracelet.


Attach the buckle to the bracelet by placing the spring bars onto the holes in the buckle. In both sides of the buckle are holes for two different positions. This can be used for fine adjusting of the bracelet length. Make sure that the spring bars are positioned straight in the buckle.


---
Q. Why don't you just put my band in an envelope with couple of stamps and send it via mail, instead of expensive and fancy UPS shipping?

A. We have tried this simple method at the beginning, in order to save money for our customers and us, but without tracking ability and proper insurance, many bands were "claimed" by customers never to have been delivered and we had to replace them for free. After replacing a few dozen "lost" bands, we were forced to use this cumbersome, more expensive, but much more reliable method of delivery.
---
Q. What is a size of a leather band?

This size refers to width of the leather band/strap and is defined by two dimensions: Case size and Buckle size.
Band width at the case always appears first (example: 12,14,16,18mm etc). Normally, leather bands have 2mm drop from case size to buckle size (example: 12 X 10mm,14 X 12mm,16 X 14mm, etc.) and only one dimension is stated, otherwise it is noted by 2 sizes (example: 18 X 18mm, 20 X 16mm, etc.)


---
Q. What is a length of a band?

Length of the leather strap is usually defined by following four sizes:
Short - 4"(102mm x 2 1/2"(65mm) for mens and 3 3/4"(95mm) x 2 1/4(57mm) for ladies
Regular - 4 1/2(115mm) x 3" (77mm) for mens and 4"(102mm) x 2 1/2(65mm) for ladies
Long - 5"(127mm) x 3 1/2" (89mm) for mens and 4 1/2"(115mm) x 3"(177mm) for ladies
X-Long - 5 1/2"(140mm) x 4" (102mm) for mens and 5"(127mm) x 3 1/2"(89mm) for ladies
Every brand follows they own guidelines and bands of the same length will vary in size.

Metal and Rubber watchbands comes in one (Standard) length.
---
Q. My watch measures 17mm between the lugs, but there are not too many choices, can I use 16mm instead?

A. It is not a good idea to ever go size smaller than what is needed, but going to a next size up (18mm in this case) is OK; since leather is soft and will shrink a little with time anyway.
---
Q. Is it OK to wear my watch loose, I can't stand anything tight on my wrist?

A. It is not safe to wear a watch too loose, it can get caught on something and your hand(or your life) will be in danger. Watchband on the watch should be sized to allow about 15 to 25 degrees of rotation on your wrist. Too tight is not good either, it should be just right.
---
Q. My watchband has been adjusted and the watch doesn't feel and lays right on the wrist?

A. Make sure that first the proper amount of links was removed, not too many or not enough, like explained in a previous question. Second, make sure that the links were removed from the proper sides. In case of a Sport Tri-fold or a Side Opening Deployant clasp/buckle, there should be 2-3 less links on a "6" o'clock side of the watchband than it is on a "12" o'clock side. If the clasp is Center Butterfly Deployant type than links should be removed equally form each side. After you are done removing links, clasp band shot hold the watch by the case parallel to the ground and make sure that the clasp dangling below is parallel too. This will ensure a comfortable watch fit.
---
Q. Where can I get answers to questions about watches in general?

A. Visit our answers page on the original RightTime.com website devoted strictly to watches, clocks or time products!
---
Q. You did a very good job with showing Seiko models and bands that fit them, but I don't see the watch that I have, does that mean that don't carry my replacement band?

A. Brands like Seiko, Citizen, Swiss Army, and many others produce over 100-200 watch models annually, we certainly don't stock all of them, but only bands for the most popular US distributed models. We have the ability to special order any factory original replacement band from the brand's US distributors, but this process can take anywhere from 2 weeks and up to 6 months.
---
If you have additional questions about this subject email us.
---