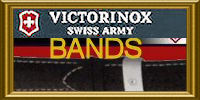 SWISS ARMY
Original Factory Victorinox Swiss Army watchbands will provide the exact fit, original color and accustomed comfort for your dependable Swiss Army watch. We stock a wide range of the most popular leather, rubber and plastic Swiss Army watch band models. Take a moment of your time to carefully choose the proper band.
Click on the links in the description fields to see the picture of the actual watch model that each band is made to fit and avoid a costly mistake!
We only carry bands listed below and
will not
special order any others, to order a different band, please contact your local dealer or factory.
Want to upgrade to a new exciting style Swiss Army watch - visit

You may visit the factory
here