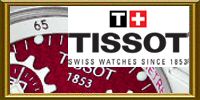 TISSOT WATCHBANDS
Genuine Tissot factory replacement bands for newest Tissot T-Touch multi-function models.
We only carry bands listed below and
will not
special order any others, to order a specific band, please contact your local dealer.
Note:
To replace these bands, a special punch will be required to drive the pin out and in again; taking your watch to a professional watch repair shop is highly advisable, or you can send it to our service center.
To see all the latest models from this old Swiss watchmaker please
visit our store in Denver or on-line
.
You may visit the factory
here