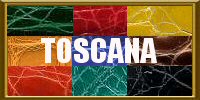 TOSCANA LEATHER
Choose from the rainbow of colors, skins and styles of Genuine Crocodile watch bands, Genuine lizard watch straps to fit Michele, Cartier, Concord and other watch brands. Highest quality, remborde, double leather construction, stitched with glued and stitched keepers and anti-allergenic buckles. Largest assortment of
quick release - no tools
leather watchbands. You can change a look of your watch and match your favorite outfit in just seconds and without any tools or skills. Transform your diamond Michelle or Cartier from evening gala black alligator to a casual red or pink lizard to go shopping for a fraction of cost of another watch. As a small company, Toscana is very quick to respond to the latest trends in the watch world today, as soon as giant watches came out that needed 24, 26, and 28mm color bands - Toscana had them right away, replacement bands in unique size to fit Patek Philippe buckle, Panerai 24mm with heavy duty construction - Toscana is at the forefront of the industry. Toscana is setting new hot watch accessory trend in the watch industry and Right Time is helping you all the way.
Visit our watch website and take a look at yet another trend this brand has unveiled - the most elegant and most durable
stainless steel bracelets for him or her
!